The leading whistleblowing software in Europe
Easily comply with the EU Whistleblowing Directive using Europe's leading whistleblowing software EQS Integrity Line.
Digitize and simplify your incident and case management processes and take the first step towards more transparency and trust in your company today.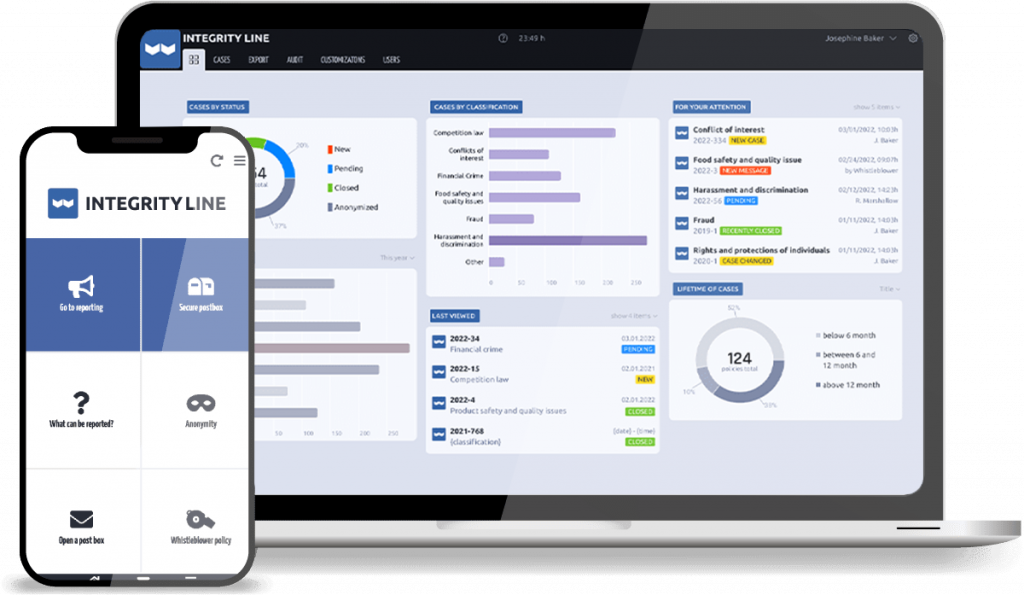 Foster a transparent and open speak-up company culture
EQS Integrity Line is a secure and confidential whistleblowing system that allows your employees and third parties to report wrongdoings such as corruption, abuse of authority, discrimination and harassment internally before contacting authorities or the media.
By choosing EQS Integrity Line, you tell your employees and stakeholders that their voices matter.
Our customizable whistleblowing software helps you to fully comply with the EU Whistleblowing Directive and the General Data Protection Regulation (GDPR).
Ready to use solution for small and medium-sized companies
The flexible solution with a variety of customization options
A full-feature solution with the highest customization possibility.


Do you need support around your whistleblowing system?
We work with a variety of partners from different disciplines. Discover the services and offerings we provide together.
A holistic approach to whistleblowing: Benefit from the additional services offered by our partners.
Together with our experienced partners, we offer you a broad portfolio of services related to your whistleblower system – from consulting services to support for system configuration and case management to investigative services.
customers use EQS Integrity Line to create more transparency in their organizations.
EQS Integrity Line at a glance
Deepen your knowledge about whistleblowing and the EU Whistleblowing Directive
You want to know more about the EU Whistleblowing Directive, whistleblowing and whistleblower protection?
Head over to our expertise section to stay up to date on whistleblowing-related content.
Build trust and ensure legal compliance
Get started with your free trial today or learn more about EQS Integrity Line in your personal demo and create more transparency and integrity in your company.
Our team of experts will support you along the way and help you implement the right whistleblowing system for your company's needs.